Video Conferencing is Here to Stay!
We're creative and innovative. Are You?
We are all on the cutting-edge of a new and ongoing way to communicate, consult and sell!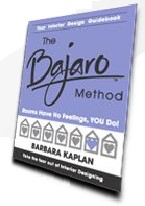 Click here
to take the Color & Design Personal Profile FREE to learn what makes you look your best on camera and off!
Every video conferencing appearance, whether it's individuals, groups or teams, offers a unique opportunity to introduce and connect with people all over the world.
This includes all video conferencing platforms, such as Zoom, Skype, BlueJeans, FaceTime, WebEx, and Microsoft Teams.
Barbara Kaplan, founder of Your Zoom Room with more than 30 years of experience as an interior designer, image creator, and marketing catalyst, has assisted clients in various fields to enhance their business environment, brand and image.
Barbara is also a journalist and published author of The Bajaro Method: Rooms Have No Feelings, YOU Do!
Specializing in consulting with people on how to look, speak and feel their best, Your Zoom Room assists people and businesses in creating opportunities for them to stand out on a competitive screen.
Putting your "best" you on camera is our focus...because the camera doesn't lie!
"The camera is the best lie detector in the world." – Megan McCain
You Only Get One Chance to Make
A Great First Impression!
Why We Succeed - Designing Your Space
Your Zoom Room makes sure your background design, personal image, business marketing and branding is all congruent with your message.
We consider your specific needs and wants, and as your Zoom Room advisor, will project your vision quickly, easily, beautifully and cost effectively to meet your business goals and objectives.
Video Conferencing is your opportunity to maintain and build your personal message, both on and off screen!
Discover Simple Changes To Impact Your Video Presence
We digitally video conference into YOUR Zoom Room to consult and evaluate with you, on the overall visual impression you are currently making with your background, body language and industry image.
We provide you with a professional and picture-perfect presentation for all your video conferencing needs…you will be perceived at your best!
You will also receive 50 Do's/Don'ts for a successful video conferencing meeting to refer to all the time.
We work with individuals, groups and teams to enhance their success on video conference (i.e., Zoom, Skype, Webex, etc.) calls.
We are known for helping our clients be comfortable on screen, create their desired professional image, and design an appropriate background that supports their message.
Our goal is to help people feel secure that their presentation is visually pleasing to the viewer and aware how it affects the other people on the video conference.
We understand that the way people are representing themselves and their business touches everyone. We focus viewer's attention to what's most important!
Since you can't see yourself objectively, we will discuss your objectives to:
Show you what is working when you are video conferencing and eliminate what isn't.
Visually accentuate your true brand, message and goals to improve your online presence.
Eliminate negative visuals from your tele-conferencing location that interfere with your intentions.
Give you fresh new ideas to keep your viewer's attention on you, not judging you or your surroundings.
Create real connection with your video conferencing audience.
Make sure YOU feel comfortable, productive and beautiful in your new or several work-from-home settings.
Maximize your tele-conferencing equipment for your best tele-conferencing performance.
And much more...
One session can change everything!
Fees:
One 30-minute session = $90.00 -- That's all you need to go from OK to GREAT!
About Barbara Kaplan
When the pandemic started and quarantine orders were put in place, our world shrunk to just four walls. Face-to-face meetings became teleconferences via internet-based apps such as Skype, Zoom, FaceTime, Microsoft Teams, WebEx, and BlueJeans. Utilizing her years of experience helping clients create personal spaces that reflect their personal identities, Barbara created Your Zoom Room. This service helps you put your best face forward in the world of virtual communication. Your Zoom Room makes sure your background design, personal image, business marketing, and branding are all consistent with your core messaging.
As the leading expert in Holistic Interior Design, Barbara Kaplan creates environments that allow people to feel good. Through her years of experience, Barbara developed a revolutionary interior design methodology featured in her book, The Bajaro Method: Rooms Have No Feelings, You Do!
Barbara has been featured in many publications and is Lifestyle Editor of Trends Magazine.
What Barbara's clients say
"THANK YOU for the individualized zoom coaching. I just didn't see what you saw. I moved around my house and found some much better and more interesting backdrops. My readers like to see my home and there are better places than my office. Thanks for giving me the tools to see myself through more practiced eyes. I think it's very important to represent your personal brand well on zoom. We're going to be at this for a while!"
Barbara Hinske
Author and TV Writer of The RoseMont Series
"Loved your article! [
24 Ways to Embrace Holistic Living While Working from Home
] You had excellent suggestions to practice holistic living at home, especially during this stressful time of being 'sheltered-in-home.' We each emit our own energy and bring that energy into our space. I believe every space has its own energy and interacts with ours."
Dr. Connie Mariano
Former White House Physician,
Concierge practice at Center for Executive Medicine
"I do a lot of work online for webinars, coaching sessions and online meetings. Before I met Barbara Kaplan I never really paid much attention to how I was coming across on screen. Barbara has given me great ideas, tips and guidance as to how I can come across more professionally. It really helps me with developing my brand. In the times we are going through now it is ever so important to present ourselves 'in the best light' and Barbara can do that for you."
Donald Grothoff
Focused Healthy Family Behavioral Transformation Specialist
Charlotte, NC
"Yay! I had the true pleasure of speaking with Barbara today, and in just a few moments she was able to quickly assess what I want my brand message to stand for, and a few mis-alignments in the way I was visually sharing that in my 'zoom room.' As someone who provides coaching and consulting solutions remotely, it is critical I make a good first impression. And, for my clients, having someone like Barbara to help them create a productive, comfortable and on-brand environment could be a game changer. I look forward to working with her in the future!"
"Thank you so much for your tips in hosting a Zoom meeting from my home office. You are so helpful and have a keen eye for detail. I will take your expert advice about lighting and distractions. I'm now looking forward to hosting my Zoom meeting Thursday evening! Thank you so much!"
Peg Casey
Independent Distributor BEMER USA
"I had the amazing experience of having Barbara re-design my zoom room! She gave me powerful tips (things I would never have thought of) to help me bring all of my listeners focus to me rather than my surroundings. I'm on video almost daily teaching and promoting my business, so being seen favorably is money in the bank. Thank you Barbara!"
Michelle Lee
Michelle Lee Coaching
"I was reading your article
24 Ways to Embrace Holistic Living While Working from Home
while listening to a conference call (you be the judge as to whether I could really do both of those things at the same time). While I was reading....or was I listening....I quietly uncrossed my legs and drank some water - my shoes were already off - and I thought 'now I only have 21 things left to do to improve my work from home environment.' Seriously, since reading your article I have completely changed up my work space and desk habits based on your suggestions and it has definitely improved my productivity, my outlook and my lower back. Sending you thanks and gratitude for your thoughtfulness."
Carrie Teffner
Board Member: Ascena Retail Group and GameStop
"Barbara, this is not the first time you wow-ed me with your designer insight and brilliance! Now that most (if not all) my meetings, client sessions, and connections are on Zoom, my intention is to make these moments as professional and personal as they would be if I was meeting someone in person, right? I was so focused on watching my client's screen that I completely didn't think about how my room/office looked through my client's eyes. Barb to the rescue...again! I needed better lighting which we discussed. I needed to clean up my world which we did. And that was only the beginning of Barbara's observations. I want more, Barb! Thank you, Barb, for helping me see me through my client's eyes...I'm so ready for my next zoom meeting!"
Susan Brooks
Business Specialist
Speaker, Trainer and Consultant
"Thank You so much for the help with our zoom project!! You are the BEST!! Not only did I learn a lot, there were things that I would have never thought of as far as staging for the video, etc. I hope everyone will use your expertise."
Shannon Fox
Kiss Me Kate Boutique
"Barbara Kaplan, Thank you for my Zoom presence and image consultation. I learned more from you in 4 minutes than in the hours I spent watching tutorial videos."
Lynne Wellish CMP, CHSE, CHO
Speaking, Training & Consulting for the Hospitality Industry
"Much gratitude and love to you Barbara Kaplan.
"Times are changing and shaping into a new normal. I am using my creativity, filming fun videos at all our locations and hosting a live shopping experience on Friday afternoons. Barbara Kaplan and her new venture YOUR ZOOM ROOM are both brilliant. I spent an hour with her on zoom today listening to her much appreciated feedback and her fresh perspective. Her ideas where spot-on and exactly what I needed to hear. She is a bright light with so much to share. Let her help you as you navigate your new normal."
Tess Loo
My Sister's Closet
"I have always been self-conscious on how I look on camera. So I shied away from facetime calls, recording videos and even joining zoom meetings. Barbara showed me how making some minor changes in the background and adding some lighting in just the right place could make a huge difference. Wow! My eyes brightened and my face came alive! Social media is important in my business. Now I am excited to use these tips and create the campaign I've always wanted. Thank you, Barbara!"
Frankie Mae Richards
Real Estate Agent/ReMax Fine Properties
"If you are interested in putting your most flattering image forward, then Barbara is your girl! In my first 30 minute session I picked up so many great tips that I never would have thought of without her help. Her eye for detail as far as where in your home to perform zoom meetings to eliminate distractions, and the importance of proper lighting, made all the difference. I felt so much more relaxed and authentic because I was better able to express myself while looking the other person in the eye. I now feel zoom will not only be something I use to connect with friends and family, but will be a great tool to interact with my clients. Don't take my word for it, set up a consultation with Barbara and see what you gain from it!"
Ilyne Fleischman
Certified Weight Loss Coach
"Barbara, I loved our session about how to improve our backgrounds for video meetings, which turned into a wonderfully fun and diverse consultation about how to improve so many things! Thanks to your valuable insights, advice, and generosity of spirit, you are a gift to all who interact with you! You are not only a giant in the interior design world, but are also a warm, caring individual who is genuinely interested in learning about and helping others. A true professional. Thank you again for your transformative session. It was fabulous!"
Warmly yours,
Gilat Ben-Dor
One session can change everything!
Fees:
One 30-minute session = $90.00 -- That's all you need to go from OK to GREAT!